UPDATE 11/10/14

This study still needs participants. I am participating in this study. If you live in the South Florida area, please consider particpating too. Extra perk is that these tests would cost you $400--in the study they are free!
Thank you! Amy Byer Shainman @BRCAresponder
STUDY
Effect of oophorectomy on younger women
Florida Atlantic University's department of Exercise Science & Health Promotion is currently studying the effect of oophorectomy in younger women. Many breast and/or ovarian cancer patients have a bilateral oophorectomy as a result of cancer treatments and more and more "previvors" are also electing to have a bilateral oophorectomy to reduce their risk of disease. But no one really knows how younger organs and muscles are affected by early menopause. FAU researchers are looking at both cardiovascular and metabolic responses to help develop exercise and nutrition plans targeted to these empowered women who care about their health and longevity. For more information, contact graduate

researcher and cancer survivor Liz Pittinger

at (954) 234-4937 or

epitting@fau.edu

.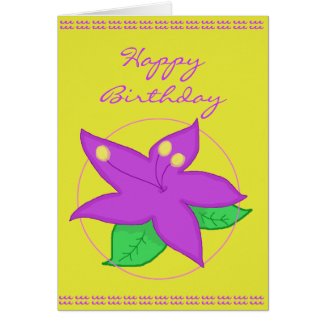 Purple Flower Birthday Card
by
Mitzvahdigs
Shop for more
greeting cards
online at Zazzle.